By Margaret Heidenry | Mar 16, 2021
Much as we might hate to admit it, the living room of 2020 was good to us. It was a space that became our office, our classroom, and comforted us during all the stay-at-home orders of the past months (and months).
But as a result of all that time at home, the way we want to decorate, design and, well, live, in our living rooms has changed.
No, 2021 is not the year for haute decor—even as stay-at-home orders are lifted, we'll be slow to get out of the house and shed our sweats. Instead, this year is all about a functional, authentic, relaxed environment that prioritizes comfort, warmth, and a feeling of safety.
1. Double-duty furniture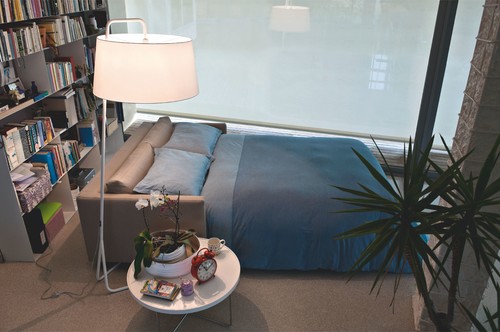 "The biggest living room trends in 2021 are pieces of furniture that have more than one function, since not everyone has a spacious living area," says Susann Goerg, interior designer and founder of New York City–based happyhomes.
Multipurpose furniture will also be favored because it will help turn the living room into a makeshift classroom, office, gym, and even home bar.
For example, think of a sofa that converts to a bed—perfect for when you have guests but don't have the extra space for another bed frame. Other living room furniture that does double duty includes ottomans that you can move around, floor poufs, and modular sofas. Also look for pieces that have hidden storage space, which helps keep your living room tidy.
2. 'Grandmillennial' style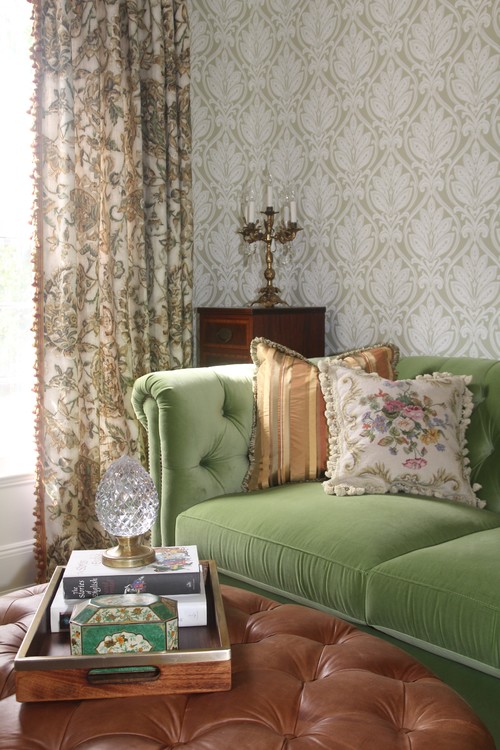 Photo by Courtney Kleeman Design
"Grandmillennial" is a take on granny chic, with classic and timeless pieces combined with bright and fresh design. The name of this style is a nod to the coziness of grandparents' homes of yesteryear, reflecting a yearning for safety and nostalgia.
But the millennial part of the style means there's a modern, updated twist.
"As millennials have grown up, many appreciate designing with their eclectic style and are steering away from monochromatic looks," says Shelby Greene, interior designer at Living Spaces, an online home decor and furnishings company.
Grandmillennial living rooms have printed wallpaper, chintz, fringe, and vintage furniture mixed with abstract art and metallic accents.
3. Large canvas art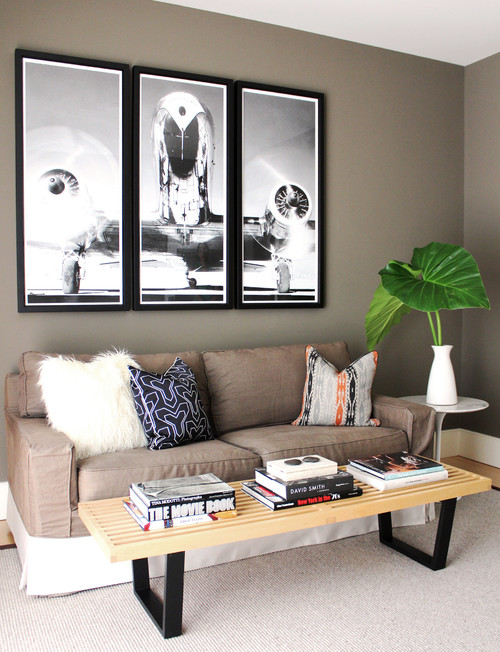 Photo by Roughan Interior Design
For 2021, look for hand-painted art pieces on canvas or moody photography prints blown up in frames.
"This trend … is booting out outdated wall art trends such as overused botanical prints," says Greene.
The fun part about this trend is it directly reflects your individual style of art whether it be pop, urban, abstract, or minimalist.
4. Simpler walls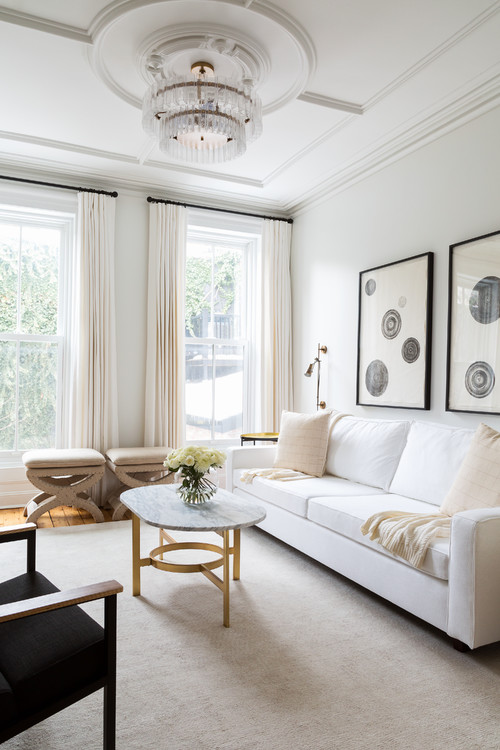 2021 will see living room walls that are free from overused design trends of the past, such as shiplap, board and batten, and 3D grid accents.
"In 2021, even chair rails might have to go," says Goerg.
Walls will be going back to basics with more subtle textures through plaster, wall washes, and touch-me wallpapers.
5. Space for entertaining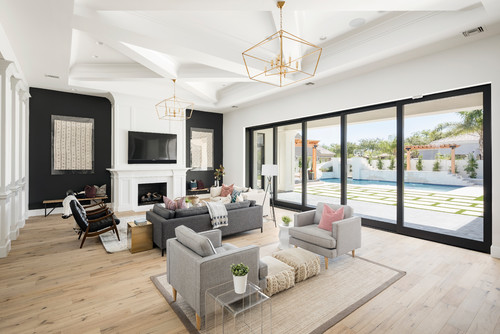 Photo by Sierra Pacific Windows
Believe it or not, there will be one day soon when we can see friends and family again. (In some places, it's already happening!) But we got so accustomed to our homes last year that we might be slow to venture out—and so we'll be eager to gather in the comfort of our own homes.
Because of this, the pros say a popular 2021 trend will be paring down or tossing overstuffed furniture to create spacious living room environments with a lot of seating for entertaining. What will remain is bigger TV screens and comfortable sofas and chairs.
6. Layered, natural hues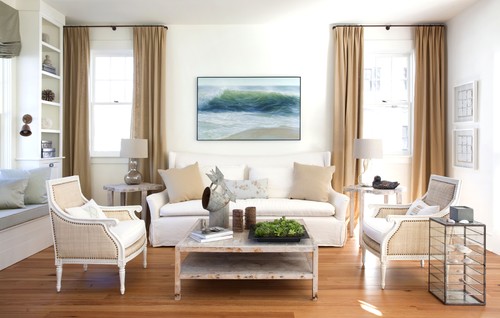 This year, living room decorating will be all about neutral shades. But while monochromatic palettes are simple, they can also feel uninspired. So try adding layered hues through texture, such as throw blankets, accent pillows, or a statement wall.
"You can even try mixing different color families such as an earthy green wall mixed with a terra-cotta pillow," says Emilie Navarro, an interior designer at Living Spaces. "That will feel very 2021."
7. Plants, plants, plants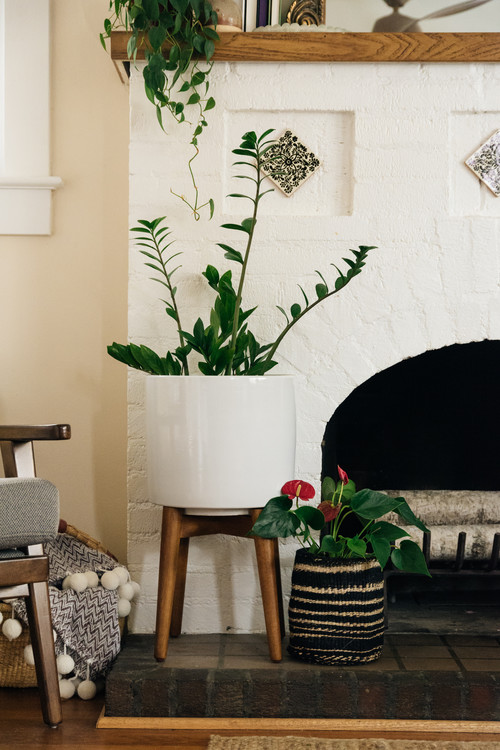 Being stuck indoors for almost a year now has many people wanting more of a connection to nature in their living rooms. And there's a ridiculously easy way to bring the outdoors in: Use plants and trees.
If you want to be especially stylish, don't pick just any greenery. The trendiest tree for 2021 is the Ficus elastica, aka the rubber tree, says Shane Pliska, owner and biophilic design expert at Planterra, an interior landscaping firm based in Detroit.
Pliska's favorite, bulletproof plant is the ZZ plant. The Zamioculcas zamiifolia has glossy foliage and does well in most light conditions.
"This is an excellent plant for any interior, especially for homeowners who don't want much fuss," Pliska says.
8. Built-ins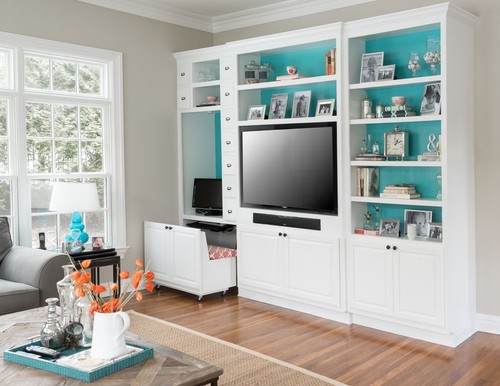 "In past years, people wanted to avoid built-ins to keep a space more flexible," says Katie Burnet, interior and technical designer at Rumor Designs in Steamboat Springs, CO. "Now built-ins are making a comeback."
These will be designated spaces for storage or work/school nooks, which are mindfully designed to fit homeowners' specifics.