By Pintrest
As we spend a lot of the day on the inside of our homes, it is easy to forget to spruce up the outside. You can increase the value of your home by 10-12 percent by making minor landscaping tweaks. Small exterior details and decorative surroundings can make or break a buyer's first impression, swaying them to move on or enticing them to take a peek inside.
While landscaping can substantially increase a home's value, it can come at a hefty price tag. Luckily, we have compiled five tricks that can bring game-changing curb appeal without breaking your bank.
Pinterest
MULCH, MULCH, MULCH

De-weeding and mulching plant beds is an extremely inexpensive way to give your home a fresh pop of color. At roughly $5 or less per bag, adding mulch is a value-adding no-brainer. Even better, all you have to do is practically dump out a bag of the ground covering to revitalize dull beds. Instantly providing the appearance of a well-maintained outdoor space without paying exorbitant prices for landscaping. When buyers pull up to your home, they are already making a judgement about the condition of the inside. If you can convince them that your home is meticulous, well-loved and worth the visit with a few bags of mulch, it's worth every penny!
EDGE YOUR LAWN

Much like mulching, edging is another inexpensive landscaping trick that leaves a polished appearance, greatly increasing the appeal of your property. If you have never used an edger, think of it like a lawn haircut. Edgers simply allow you to clean up pieces of grass that overflow onto sidewalks and into the road.
Keeping your yard well kept and edged is very inexpensive, especially if you start a few months ahead of time. Using weed killer to rid your lawn of unsightly intruders and defining edges, will help tame your yard and make ongoing maintenance a breeze.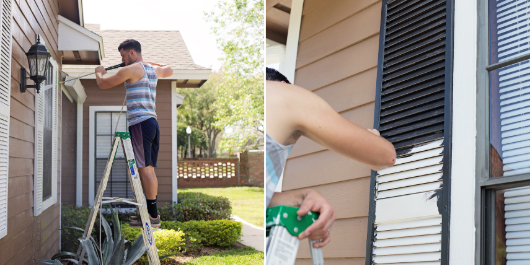 Pinterest
MAKE MINOR REPAIRS

It is easy to grow blind to areas of the home that may fall in disrepair or make a home look dated. A good way to approach repairs is to place yourself in the shoes of a potential buyer, conducting a walkup to your front door and upgrade anything that immediately grabs your attention. Simple upgrades like new house numbers or painting your front door with a fresh pop of color will greatly add to your home's outdoor aesthetic.
ADD (TRENDY) LAWN PROPS

We have all seen our fair share of unsightly yard art. Brightly colored flamingos, lawn gnomes and bottle trees may make you smile, but they also may send out tacky vibes to visitors. Luckily, not all property flair is created equal, making it possible to find inexpensive statement pieces that look more luxurious than laughable. Aim for trendy midcentury modern pieces that incorporate wood elements or unique rustic metal or stone embellishments that add intrigue and warmth.
Pinterest
IT'S ALL ABOUT THE GREENERY

Naturally, our eyes are drawn to items that are full or life and that create balance. Flank your entryway with matching potted plants to create symmetry and to add a fresh touch of botanical bliss. Potted plants soften entryways and are the perfect accompaniment to a gorgeous front door.